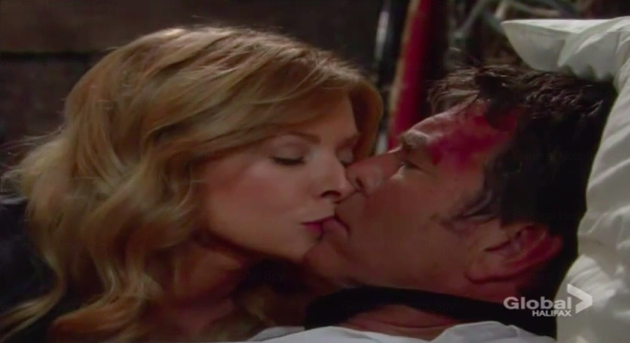 A few weeks back on
The Young and the Restless
, viewers learned that businessman Jack Abbott (Peter Bergman) has a doppelganger, found by the one and only Victor (Eric Braeden). It seems that Victor must have a correspondant in the National Registry of Lookalikes. First was Patty Williams and Dr. Emily (Stacy Haiduk, although if I correctly recall that involved some plastic surgery). Then came the girl he convienently ran into that looked remarkably like his late granddaughter Cassie (Camryn Grimes), whom he paid to torture Cassie's mentally ill mother Sharon (Sharon Case). The girl in question turned out to be Mariah Copeland, Cassie's previously unknown identical twin sister who was stolen at birth. Of course, Lauren Fenmore (Tracey Bregman) also had a doppelganger in 2010, Sarah Smythe, who was somehow involved in her long-standing feud with Sheila (Kimberlin Brown). Now, Victor has come up with a Jack lookalike, which he apparently found in a Peruvian prison, to help him in his plot to merge long-feuding conglomerates Newman Enterprises and Jabot Cosmetics. The catch? The Abbotts think this lookalike is in fact the real Jack, when the real Jack is being held hostage in a shack by a beach by (you guessed it!) Kelly Andrews (Cady McClain), who is most definitely mentally unstable since Jack broke up with her.
The general consensus of the latest doppelganger storyline is, to say the least, mixed. It is of course just another recycled plot (as you can infer from above), yet, it's hard to tell the direction of where this story could be going. It's hard to tell where any story on
Y&R
is going these days, especially since Chuck Pratt, Jr. took over as head writer. Pratt, notoriously pinned by daytime legend Susan Lucci for destroying
All My Children
while he was head writer of the ABC soap, was hired to head write the top CBS soap last September. His material finally commenced airing in February, during which viewers saw a plane crash, a roof collapse and a murder all on Valentine's Day. Since then, Jack has a doppelganger, and Sharon is being accused of said murder that happened on Valentine's (because, according to Pratt, "Sharon is much more interesting when she is crazy!" Lemme not comment on that.)
Of course, viewers have had certain doubts of the story direction of
The Young and the Restless
since Pratt took over. In a recent interview with Michael Fairman's
On-Air On-Soaps
, Pratt basically said that while he has to please viewers, viewers also have to understand that we have to like the story directions
he
chooses. Terrific logic. Not to mention he thinks Sharon Newman is much more interesting when she is crazy, which is the biggest load of crap since Maria Arena Bell wrote for the show. Lord help us and give us strength. Catch
Y&R
weekdays on CBS.